Show it Off!
Wall Art & Print Product Offerings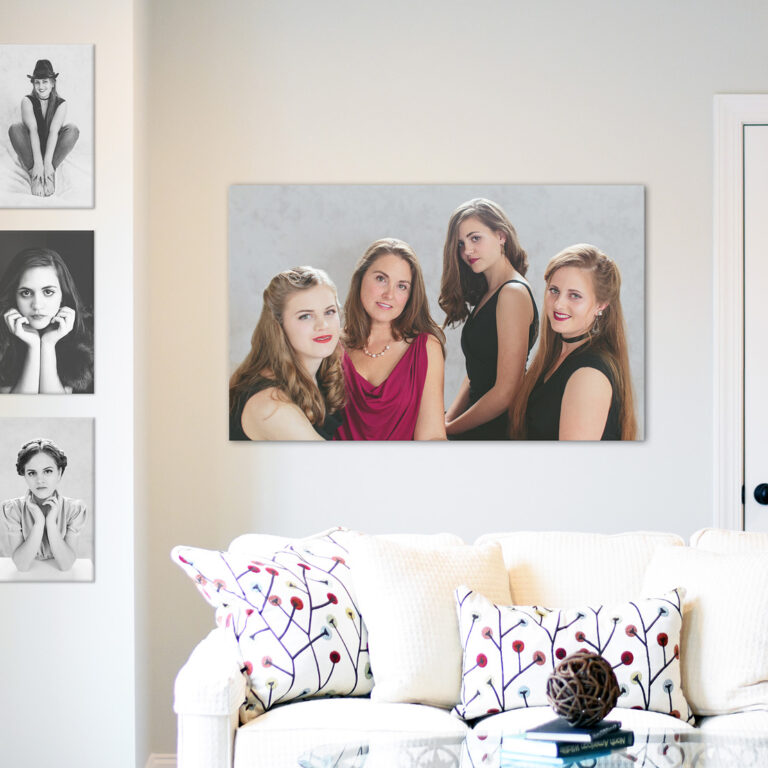 Have you ever had a photograph that was your most prized possession? If so, no doubt it was because of who is in that photograph that made or makes it so special, so priceless. As special as the person in that image is to you, you are that special to someone, too. Now imagine having not just a photograph, but a true work of art that captures the beauty and personalities of your special people. The clarity and depth of that image make those people virtually leap through the frame. And you're there, too, so that this beautiful portrait can become something they will always treasure.
Photographs remind us who we are, where we belong, and that we're part of a tribe that values us and has our back. They freeze time, and help us relive our greatest memories. Where should treasures like this live? As a series of 1's and 0's inside a metal box? On your last phone? At Birch Blaze Studios we firmly believe photographs that reinforce all of the above and convey real emotion, should also be real…something physical that can be touched and held, and reside where it can be enjoyed everyday. When our families see themselves honored in gorgeous prints, given prominence in their home, they feel loved and valued…a part of something special.
Here at Birch Blaze Studios, we work only with the highest quality print labs offering premium acid free papers and archival inks formulated to last for generations. Genuine cotton rag matts and stunning canvas prints that are actually canvas!
We want to be your resource for planning which types and sizes of wall art will work best in your home, with your wall space and décor. We encourage you to take photos of the rooms & walls you're looking to populate with the gorgeous photographs we'll create with you, and send them to us prior to your session. At your ordering session, we can then show you a mock-up of what your photographs would look like on your walls in various configurations and sizes! We're also happy to come to your home in-person to help you plan your wall art, if you prefer. Here are some examples of what we offer:
Our Gift Print (matted, 5×7 or 7×10 prints) collections come in our Birch Blaze Studios signature box (6 print collection, not pictured) or, for our 12 print and above collections, our Heirloom Image Box or Folio. As you can see, above, this Heirloom Folio is so much more than a storage box, capable of turning a box of photographs into a frame where you can easily change out the displayed image on a whim. Each Reveal Box is hand-made by skilled craftsmen in Italy, and is enriched by high quality materials, such as real Italian leather and linens. The prints are all professionally matted with acid-fee, museum-quality matts, and are ready to frame. Otherwise, the Folio Box is similar to having an album that you can look through and share with guests. When "at rest" it's still displaying your favorite image!
Triptych
This triptych collection is the perfect accompaniment for classic or modern decor. Just the right size to balance with the sofa, but not take over the space. As with any of our larger wall art prints & collections, you can choose between framed, canvas gallery wraps or acrylic prints, all for the same price! We would LOVE to help you recreate this same look in your home!
The Gallery Duo
Being able to look up and see his or her loving family on a big canvas wrap or acrylic print will boost your child's sense of place, and in turn, self confidence. Not to mention how striking our Canvas Gallery Wraps and Acrylic Wall Prints look in any room, with any decor!
5 Islands Wall Collection
Last thing you see before hitting the lights on another day, first thing you see as you turn around to make the bed in the AM. What a great way to start and end each day! Our "5 Islands" wall collection is the perfect way to represent the whole family! Once again, your choice of framed, canvas wraps or acrylic.
Sofa-Size Gallery Print
Make a statement! Perfect for a large room, high ceilings, or to scale up to a piece of furniture, our sofa-size gallery prints will get you there. Don't be shy, do it up! Typically 40-60" on the long edge, but we can do custom sizes, too. Your choice of framed, canvas wraps or acrylic.
The Switchback Collection
Available in B&W, color, or a mix, our "Switchback" Collection puts a modern spin on a gallery collection. We can scale this collection to fit any room. Your choice of framed, canvas wraps or acrylic.
Book Your Family Session Today!
Your opportunity to turn beautiful moments into heirloom art is just a click away.....